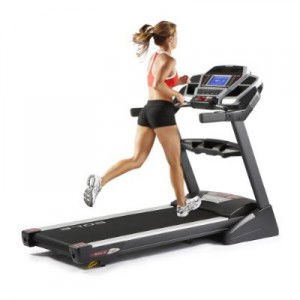 The Sole F85 treadmill is Sole's top-of-the-line folding treadmill and their number one seller. It is also rated a Best Buy by industry experts and customers alike. Simply stated, it is one of the best folding treadmills you'll find.
The Sole F85 is a hefty treadmill weighing a whopping 280 lbs. that provides a solid and stable exercise experience for users of any size. The deck on the Sole F85 is a generous 20? x 60? which provides ample leg room for tall people or runners. It also has one of the most powerful motors you're going to find for a home treadmill with a 3.5 continuous duty horse power motor.
In a nutshell, the Sole F85 treadmill is a commercial-quality treadmill for the home that gets rave reviews from experts and customers alike. It also has one of the better warranties you'll find for a folding treadmill in this price range and has an impeccable performance record.
Feedback&Overview
Actual Expert and Customer Feedback:
A Top Rated Fold-up, One of the Best -Fred Waters, Industry Expert
With additional detail work done and with the 3.5 HP motor and oversized running surface, this one has potential. Sole has done a great job with the F85 this is one to strongly consider if you are a runner and need a foldup. -Treadmill Doctor, Industry Expert
After doing a ton of research on treadmills for months, this treadmill had everything I wanted. The number one feature which led me to this treadmill is the hand controls on the rails to increase and decrease speed and incline. You do not see a lot of treadmills with this feature. I am the kind of person that gets bored easily but not with this treadmill. The display is incredible and very well lit. Very quiet motor - I didn't even have to turn up the radio. Super smooth riding belt. I also love the 20X60 belt. What more can I say except it was money well spent! Sole - Thanks for the wonderful treadmill! -Amazon Customer
I meant to write a review earlier about my treadmill but I'm just getting around to doing it now. I love my F85. I did a lot of research before I purchased and Sole eventually won me over. It was totally worth it though and I love being able to go for a run anytime of the day and year in the comfort of my own home.-Dick's Sporting Goods Customer
I purchased the Sole F85 treadmill directly from Sole and took advantage of the free shipping they offer. They shipped it out the next day and I received it quickly in perfect condition. It was incredibly easy to put together, it took about 30 minutes to do. I've used it everyday since it arrived. I walk 4-5 miles per day at 8-10 degree incline and so far no worries. I used to get terrible shin splints with my old treadmill at half the speed and no incline but since I've started walking on this machine I haven't had a single twinge of pain. No regrets on this purchase what so ever! The only negatives I can really come up with are the built in fans and H.R. display. Because I'm only 5' tall the fans can't be adjusted low enough to hit me. No biggie. The other thing is the with the H.R. display. When I wear my Polar H.R. monitor it comes up on the LCD display but is inaccurate.-Amazon Customer
The Sole F85 is a great value for the money and is a great treadmill for serious runners. I clock over 25 miles per week and it has held up well for 3 months now. I am using it to train for my first marathon.I like the long belt and the 3.5HP for this price is a steal as compared to other treadmills with similar features.-Amazon Customer
My wife and I have been running and walking on this machine for over a year and a half and we've had no problems. The heart rate monitors could be better but I'm not convinced any of the treadmills offer anything more accurate. They get you in the ballpark. The warranty is what really matters and few machines match Sole's much less alone exceed it. I've spoken with Sole on several occasions and the customer support is superb. No overseas call center and instant response from a company that wants your business.
Overview
Pros:
-Generous Running Surface (20"x60")
-Powerful 3.5HP Continuous Duty Motor
-Impeccable Performance Record
-Terrific Warranty
Cons:
-Inadequate Fans
-Heart Rate Monitor Not the Most Accurate
The Sole F85 is rated a "Best Buy" by industry experts and has an impressive 5 out of 5 star rating on Amazon and Dick's Sporting Goods. Rarely do you find a treadmill where the experts have nothing but good things to say about it and the customers give it a perfect rating. It is also one of the more expensive folding treadmills at just under $2000, but it's worth every penny.
With its quiet and powerful 3.5HP continuous duty motor, large running deck, impeccable performance record, and impressive warranty you can't go wrong with the Sole F85. It is perfect for any size user and operates effortlessly for walkers, joggers, or runners.
Treadmill Specifications
Folding Yes
Motor 3.5 HP Continuous Duty
Incline 0-15%
Walking Surface 20" x 60"
Belt Thickness 2 Ply
Rollers 2 3/4"
Machine Weight 280 lbs.
Footprint 30" W x 80" L x 58 H - opened
User Weight Capacity 400 lbs.
Heart Rate Control Yes - Includes wireless chest strap
Hand Pulse Grips Yes and arm rest speed/incline controls
Preset Programs 6 + 2 heart rate control programs
User Defined Programs 2
Console Display Red LED Readout
Water Bottle Holder Yes
Cooling Fans Yes
TV/Sound System Yes; iPod/Mp3 Port with Built In Speakers
Treadmill Warranty & Shipping Info
Frame/Deck Lifetime
Motor Lifetime
Parts 5 Years
Labor 2 Years
Return Policy 30 Days with 8% restocking fee if returned within the 30 day period
Ships To U.S. and Canada
See also other TREADMILL REVIEWS:
nordictrack commercial 1750 review